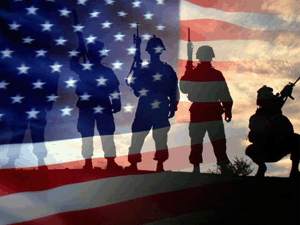 On Veterans Day, every year, we pay special tribute to America's 25 Million living military veterans. We honor them for exemplifying the true character of the American Spirit- personal courage, love of country and devotion to duty. We thank them for sacrificing their personal aspirations and safety to procure and protect the freedoms of this great nation.
In the Bando Family, we have several men and women members (and past members) who served, or are presently serving in the Military. The ABA would like to extend a special thank you to these individuals and wish them all the best in the coming years.
Dr. Maung Gyi
Wakeel Abdullah
Antonio Leon
James Angell
Stanton Lipson
Paul Braddock
R. Joe Manley
Branden Brooks
Michael Martin
Justin Brown
Robert Maxwell
Charles Brubaker
Dr. Anthony Milburn
JR Byrd
David E. Osborne, Sr.
Michael Carroll
Dr. Michael Pipo Jr.
Derrick Carter
Frank Reynolds
Robert Cassarino
Will Riddick
Greg Cochran
Gustavo Santa
Lloyd Davis
Bomani Sekou
Stephen Denty
Dr. Stefan Sherman
Buzz Evans
Joseph Singleton
Alain Feschet
Martin Smith
Mike Hoefler
Alvis Tinnin
Eugene R. Johnson
Bernie Tomaszewski
Jennifer Johnson
Keith Trundy
Charles King III
 James Whitcomb
Bryan Kuhr
Russell Wood
Jerome Lauderdale
If you are a Veteran and a "Full" member of the American Bando Association and do not see your name listed above please contact the ABA secretary for inclusion.