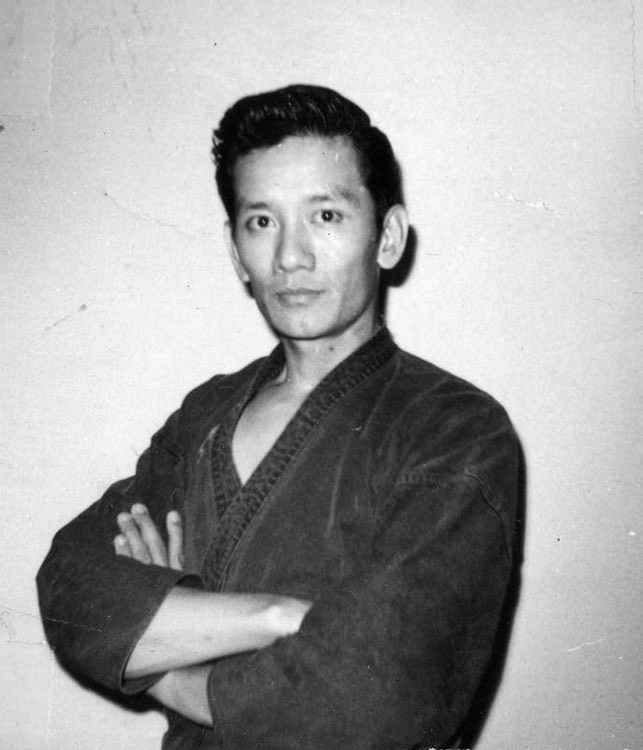 Dr. U Maung Gyi (photo from 1950) was born and raised in Burma (currently known as Myanmar). His father was U Ba Than Gyi. He was the Director of Physical Education and Sports in the Burmese Ministry of Education. After WWII U Ba Than Gyi was posted in Mandalay, and later in the 1950s, he was transferred to Rangoon. U Ba Than Gyi always encouraged his students and his son to maintain good health, participate in both individual and team sports, and practice different martial arts systems.
Thus, in keeping with his philosophies, Dr. Gyi's father encouraged his son to study with different instructors.  On the weekends, Dr. Gyi learned from many different Sayas [teachers] from National and Ethnic Martial Arts Systems. He trained at the Gymkhana Club in Mandalay, at the Maymyo and Rangoon Athletic Clubs, and at the Chinese Athletic Center in Chinatown, Rangoon. Dr. Gyi's Sayas included the following respected individuals:
INSTRUCTOR NAME (ETHNICITY)
Saya Saw Ni (Kayin)
Saya Thara Po (Kayin)
Saya A. Khan (Yakhine Kala)
Saya U Tin Hla (Burmese)
Saya Zaw Pan (Kachin)
Saya U Tin Tun (Mon)
Saya Lu Shai (Chin)
Saya Ba Thein (Burmese)
Saya Batanji Rai (Gurkha)
Saya Gunju Lama (Gurkha)
"Tiger" Ba Nyein (Burmese)
During the late 1940s and early 1950s, the teachings of the following late Venerable Buddhist monks provided Dr. Gyi with inner balance and strength to overcome his failures and to accept his successes with humility:
His Holiness the Venerable Amarapura Sayadaw
His Holiness the Venerable Mandalay Sayadaw
His Holiness the Venerable Mogok Sayadaw
His Holiness the Venerable Homalin Sayadaw
His Holiness the Venerable Mingun Sayadaw
Their teachings of patience, perseverance, tolerance, centeredness, mindfulness, compassion, forgiveness, emotional and physical healing, perceptual clarity, mental discipline, internal energy and inner balance and strength have continued to influence and guide his life.